---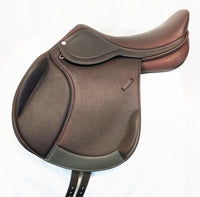 Royal Heritage MerryWeather Event Mono-flap Jumping Saddle
We love this saddle.  Well balanced, wool flocked panels, adjustable gullet and will fit a horse with curve to the back unlike so many other adjustable gullet saddles.
Short panel system eliminates bridging and makes fitting the horse that may be croup high for saddle fit or shorter in the back very easy.
Available in 17- 19 seat sizes in Chocolate Brown and Black

$1295.00
Comes complete with all the gullets, leathers and irons.
Shipping is based on weight and destination and can go out for a week trial.