---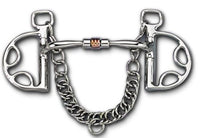 Stainless Steel Kimberwick with Stainless Steel Comfort Snaffle with Copper Roller (MB 03) Copper Inlay Mouth
MB25035 - 5"
Myler Stainless Steel Kimberwick, MB 03 Comfort Snaffle with Copper Roller, Level 1
The MB 03 is the Myler alternative to the traditional French link or lozenge mouthpiece commonly used in snaffle bits with an added copper roller. The MB 03 rotates onto the tongue, applying tongue pressure, but because the mouthpiece is curved, it wraps around the bars and lips instead of pinching. The barrel in the center applies approximately the same pressure on the tongue as a traditional three-piece mouthpiece, however, the barrel distributes the pressure more kindly and creates Independent Side Movement™.
Independent Side Movement
Stainless Steel Mouthpiece
Curved Mouthpiece
Copper Inlay
NOT Dressage Legal
Notes: The MB 03 is identical to the MB 02 except for a copper roller on the center barrel which can comfort horses that are restless or nervous. For more tongue relief, step up to the MB 04.
The Kimberwick is a "D" shaped stainless steel ring with a purchase for the headstall and two attachment options for a single pair of reins: the direct (snaffle) and the indirect (curb) positions. Comes with curb chain. Like the Pelham, the purchase creates a fixed cheek so the bit is held in the correct position. The rider can choose the direct (snaffle) position or indirect (Curb) position for rein attachment. The Indirect Rein position adds very little to mild leverage. Designed to be used with only one pair of reins.
Retail Price: $210.00 Classic Price: $178.00