---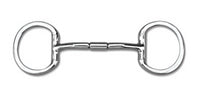 89-29325
Sizes: 5"
Myler Stainless Steel Eggbutt without Hooks, MB 32 Mullen Barrel, Level 2
The MB 32 is a Myler alternative to the traditional mullen. It is curved more than a traditional mullen, giving more room for the horse's tongue under the bit.
Independent Side Movement
Stainless Steel Mouthpiece
Curved mouthpiece does not pinch lips and bars
Copper Inlay
USEF and FEI Dressage legal. Consult rulebook for more information.
Notes: Popular with riders who are more comfortable with a traditional design, but we recommend that you try the MB 32-3 to get the full benefit of Myler features. For a ported mullen style offering more tongue relief, see the MB 06 or MB 36.
An eggbutt is a traditional cheek style which keeps the mouthpiece from draping on the tongue, providing a more direct signal than the loose ring. The straight side of eggbutt will not pull through the mouth and does not pinch. For a more versatile version, see the eggbutt with hooks.
Size: 3 ½" rounded ring

Price: $144.00  Our Price: $122.00