---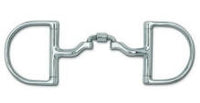 Stainless Steel Dee without Hooks with Stainless Steel Low Ported Barrel Narrow (MB 43LP) Copper Inlay Mouth
89-21435 - 5"
Myler Stainless Steel 3 3/4" Dee, MB 43LP Narrow Low Ported Barrel, Level 2-3
The MB 43LP does not rotate on to the tongue, but instead sits solidly across the bars and lips of the horse's mouth. The port is narrower than a Level 3 mouthpiece, but still offers room for the horse's tongue to pass under the bit. Because the port is narrow, when the reins are engaged, the horse will feel a slight pressure on the outside edges of the tongue — a gentle reminder rather than a strong reprimand. The port on this mouthpiece is only 1 ¼" high, so it will apply little to no palate pressure. It is the mildest of the Level 2-3 mouthpieces in terms of tongue pressure, just one step below a Level 3 mouthpiece.
Independent Side Movement
Stainless Steel mouthpiece
Curved Mouthpiece does not pinch lips and bars
Copper Inlay
Notes: For more tongue pressure, see the MB 27LP or MB 27PB. For the correctional version of this mouthpiece, see the MB 41PB. For more tongue relief and Level 3 version of this bit, see the MB 33.
The dee without hooks is a traditional "D" shaped cheek with fixed attachment of the mouthpiece. This style keeps the mouthpiece from draping on the tongue, providing a more direct signal than the loose ring. The straight side of the dee will not pull through the mouth and does not pinch.
Size: 3 ¾" Dee
Action: Direct
Notes: For a more versatile version of the cheek piece, see the English dee with hooks or the eggbutt with hooks.
Retail Price: $152.00     Classic Price: $129.00