---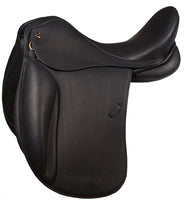 M. Toulouse Verona Platinum  
Soft, supple doubled leather breaks in immediately and with proper cleaning and conditioning will remain "sticky" for the life of the saddle.  Wool flocked "STP" (soft touch) panels have a layer of soft foam next to the horse (between the tree and the panel leather) so the panel system will always remain soft and comfortable for the horse.   Point billet and "V" billet system.
Before you purchase your new saddle be sure to ask us:  Will this saddle fit my horse?  Will this saddle fit me?  Email us a nice side shot of your horse and ask us based on the length of your thigh or base of support, will this saddle fit me?  Our knowledgeable sales staff is here to make sure you are getting the correct saddle.
Seat sizes: 16.5" through 19"
Genesis adjustable tree
Retail: $2370.00  Our Price: $2110.00
Is the saddle you're interested in available?  Email us: lynnda@classicsaddlery.com