---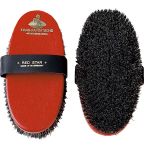 Haas Red Star Leather Backed Brush
Haas brushes are manufactured in Germany of the very finest quality designed for a lifetime of use with proper care.
An elegant brush, backed in red leather and with mixture of pure soft horse hair and other natural fibers.
For intensive cleaning of the horses hair coat.  Haas brushes make an excellent gift for you, your horse or a friend.
Size: 215mm X 100mm
Price: $34.95