---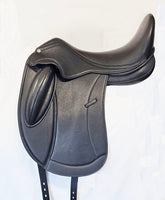 Royal Heritage Lyric Mono-Flap Dressage Saddle with Moveable Thigh Blocks and NEW Spectrum Adjustable Tree

Brand new for 2023 this dressage saddle boasts some of the finest leather available on a dressage saddle today.  Soft, supple, immediately broken in.  The Lyric saddle has a deeper seat and rises quicker seat bones to pubic bone and will support the rider who tends to feel tipped forward in most dressage saddles.  Moveable leg support can be adjusted forwards and backwards both top and bottom for optimal leg position.  Point billets and rear "V" billets provide correct positioning on the horse together with a generous wool flocked panel and adjustable gullet system allows this saddle to be fit to the majority of horse conformations.
https://www.youtube.com/watch?v=WU2C3Rqn0MU
Before you purchase your new saddle be sure to ask us:  Will this saddle fit my horse?  Will this saddle fit me?  Email us a nice side shot of your horse and ask us based on the length of your thigh or base of support, will this saddle fit me?  Our knowledgeable sales staff is here to make sure you are getting the correct saddle.
Retail: $1695.00  Our Price: $1695.00 includes calf wrapped stirrup leather