---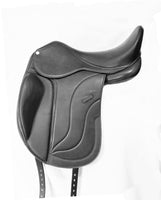 Royal Heritage Fauna Mono-Flap Dressage Saddle
Brand new for 2022 this dressage saddle boasts some of the finest leather available on a dressage saddle today.  Soft, supple, immediately broken in.  The Fauna saddle has a more gradual rise from seat bones to pubic bone for the rider who needs a more open seat.  Shorter more up-swept rear panel will not bridge like saddles with a longer panel with larger rear gussets.  Open pommel sits down and around a broad backed horse.  The  surface block is angled to support the riders leg correctly at the thigh.  Point billets and rear "V" billets provide correct positioning on the horse together with a generous wool flocked panel and adjustable gullet system allows this saddle to be fit to the majority of horse conformations.
https://www.youtube.com/watch?v=WU2C3Rqn0MU
Before you purchase your new saddle be sure to ask us:  Will this saddle fit my horse?  Will this saddle fit me?  Email us a nice side shot of your horse and ask us based on the length of your thigh or base of support, will this saddle fit me?  Our knowledgeable sales staff is here to make sure you are getting the correct saddle.
Retail: $1795.00  Our Price: $1595.00 includes calf wrapped stirrup leather,  irons.